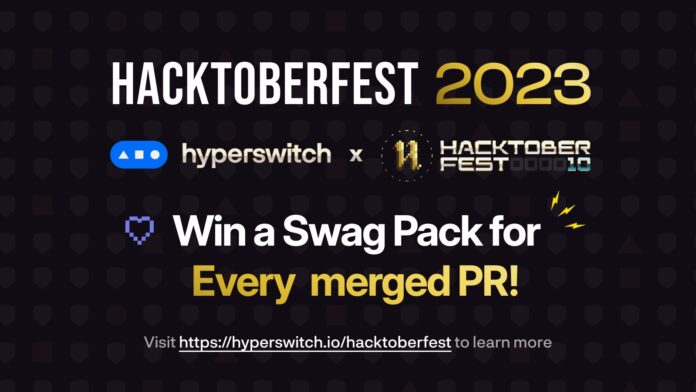 Last Updated on October 4, 2023 by GeeksGod
Hyperswitch(by Juspay) is thrilled to participate in the 10th edition of Oktoberfest!
Hacktoberfest 2023: Our mission is to build payment infrastructure that serves billions of people at scale – a utility like water or electricity
Hyperswitch Joins the Celebration: Hacking for a Better Payment Infrastructure
Introduction- Hacktoberfest 2023
In the spirit of open source collaboration and innovation, Hyperswitch, a pioneering player in the world of payment infrastructure, is excited to announce its participation in the 10th edition of #Hacktoberfest! 🎉 This annual event, organized by DigitalOcean, GitHub, and Twilio, brings together developers, tech enthusiasts, and open source projects from around the world to celebrate the power of open source software. Hyperswitch is thrilled to be part of this global event and welcomes all aspiring contributors to join our mission.
Our Vision: Payment Infrastructure for Billions
At Hyperswitch, our mission is clear: we aim to build payment infrastructure that serves billions of people at scale. We envision a world where payments are as seamless and reliable as utilities like water or electricity ⚡. By developing cutting-edge solutions and harnessing the potential of open source technology, we are working towards making this vision a reality.
Why Open Source Matters
Open source software is at the heart of our journey. It allows us to collaborate with a global community of developers, designers, and innovators who share our passion for creating a better payment experience. Open source fosters creativity, accelerates development, and ensures transparency and security in our projects.
Join Our Mission and Win Prizes!
We invite you to be a part of our mission and contribute to the Hyperswitch project during Hacktoberfest. To show our appreciation for your contributions, we are offering a fabulous #swag pack for every merged pull request (PR) that you submit. 🎁 It's our way of saying thank you for helping us move closer to our goal and making a meaningful impact on the payment industry.
Making Hacktoberfest Unforgettable
Let's come together to make this Hacktoberfest an unforgettable one! 🙌 💫 By collaborating on the Hyperswitch project, you not only have the chance to win exciting rewards but also the opportunity to learn, grow, and be part of something bigger than yourself. Whether you're a seasoned developer or just getting started with open source, your contributions matter, and they can make a significant difference.
Don't Forget to Star Our Repo!
Before you dive into contributing, don't forget to star our repository on GitHub. It's a simple way to show your support and stay updated with our latest developments and announcements. Here's the link: Hyperswitch GitHub Repo
Conclusion
Hyperswitch is honored to be part of the Hacktoberfest community, and we can't wait to see the incredible contributions that will come from this collaboration. Together, we can pave the way for a future where payment infrastructure is accessible, reliable, and efficient for everyone. Join us on this exciting journey, and let's celebrate the spirit of open source together! 🚀
Happy Hacking, and let's make this Hacktoberfest one to remember! 🎉🙌 💫
Mandatory to Star the REPO: Click Here
Contribute Now for Hacktoberfest 2023: Click Here