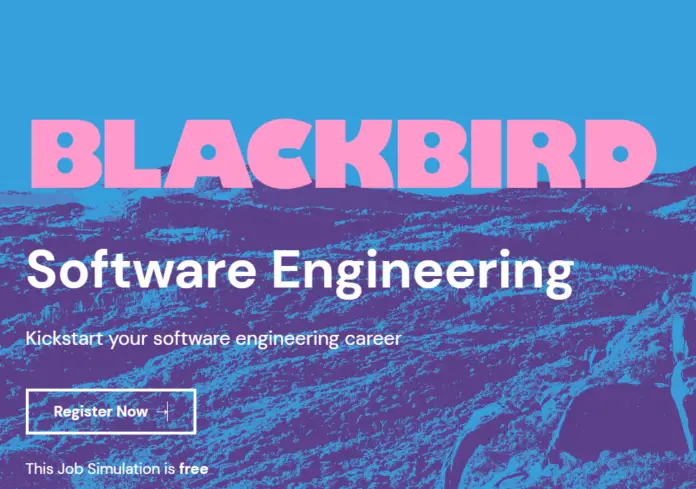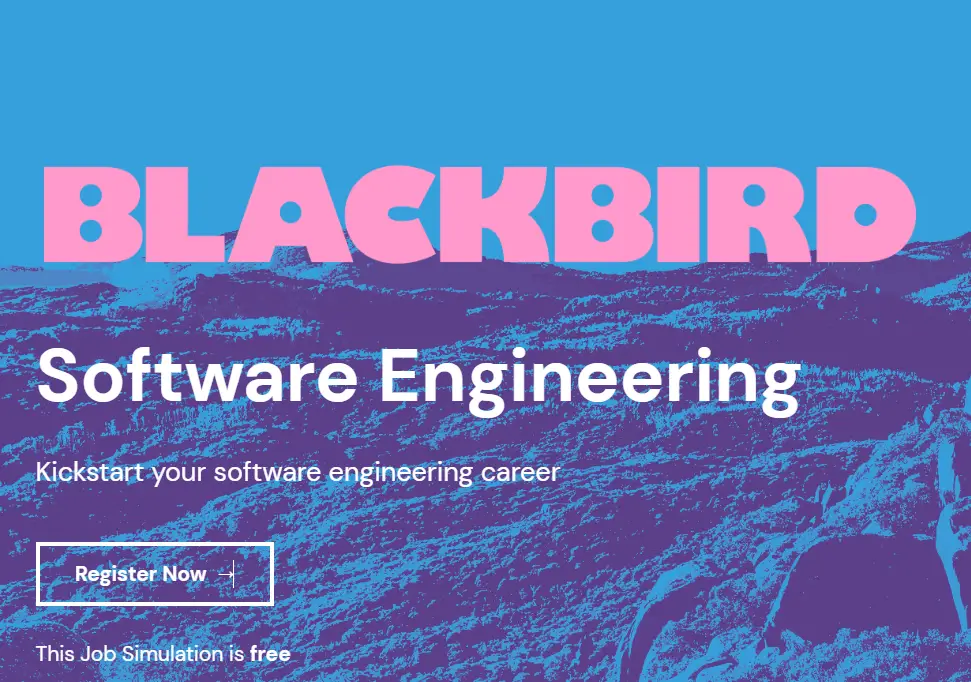 Last Updated on September 23, 2023 by GeeksGod
Software courses
Free Software Engineering Online Program: We are a venture capital fund based in Australia and New Zealand. We invest in every type of technology and are unified by wild ambitions. This program is an embodiment of what we value the most as a company and will allow you to explore the compelling work that startups do all over the world.
During this program, you will gain valuable insight into what it's like to be a software engineer in a startup environment. You will also get the opportunity to practice practical skills such as how to build and verify code, assess cloud infrastructure, and more!
The best part? After completing each module, you will have the opportunity to compare your work with real work sample answers from experts working at some of Blackbird's portfolio companies. This will give you the chance to learn from their process and improve in the future. Upon completing the program you will also earn a certificate that can help you stand out during your job search!
We hope that this program will be an interactive and valuable resource for you as you explore the world of startups and build skills for your future career!
Please note for this Free Software Engineering Online Program: to complete this program and earn your completion certificate, you will need to submit only 3 out of 6 tasks.
Lilypad: The place our startups hire great talent from. 🙌 
The Lilypad is an exclusive hiring platform for Blackbird's 90+ portfolio companies, helping you get in front of startups and leapfrog into your dream job. It's free and takes less than five minutes to create a profile and fill out your career preferences, where you'll then get introduced directly to our founders and operators. 
How will you benefit?
Earn a Certificate
When you complete the Blackbird Software Engineering for Startups Virtual Experience Program, you'll earn a personalised completion certificate to share with prospective employers and your professional network.
Gain real work experience
Throughout the Blackbird Virtual Experience Program, you'll develop deep insights into what it is actually like to work at some of Blackbird's portfolio companies.
You'll be able to include this experience on your CV and LinkedIn profile. Demonstrate that you're ambitious, hardworking and have developed valuable practical skills.
What will you learn in Free Software Engineering Online Program
---
Collaborate Using GitHub with PropellerManage your repo using GitHub CLIPractical skills you will gain from working on this task: GitGitHubCollaboration
Build And Verify Your Code with Harrison.AiWrite input validation and unit & integration tests for React applicationReactUnit TestingJavaScript
Find Product/Market Fit with ForagePropose new feature to undergo A/B TestingA/B TestingProduct Analytics
Contribute To A Sprint Retro with BarajaAcknowledging wins and losses and how to improve project ManagementAgile
Utilize An Open Source Project with Morse MicroCreate temperature warning system using Arduino microcontrollerArduinoHardware
Assess Cloud Infrastructure with ForageArchitect low-cost high-performance system using AWS products InfrastructureArchitecture
This program is self-paced. It takes 5-10 hours to complete this virtual experience program
---
---
Welcome to GeeksGod Watch out for fake job offers asking for money. Legitimate jobs

never

charge fees. Trust your instincts and stay safe.
---
---
Register Now: Click Here (Free Software Engineering Online Program)
---
---
---
---
---
Follow us on LinkedIn (122,000+ Follower) : Join Now
Important
All Company names, logos, and brands are the Intellectual Property of their respective owners. All company, product, and service names used in this website are for identification purposes only.
We are not associated with any company/agency/agent whose jobs posted on geeksgod.com, We are just an information provider for job openings. Read our Disclaimer Policy and Term of Service for more information