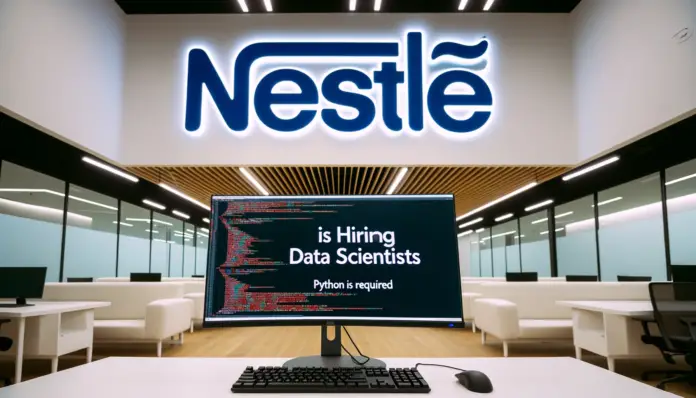 Last Updated on October 12, 2023 by GeeksGod
Data Scientist Job Hiring
Nestle India Careers: Big Data Science Jobs 2023-We are a team of IT professionals from diverse cultures, genders and age groups in the world's largest food and beverage company. We innovate every day through forward- looking technologies to create opportunities for Nestlé's digital challenges with our consumers, customers, and employees.
We have exciting positions in our new Nestlé global services operations based in Bangalore, which works alongside our Regional IT Hub in Sydney and Global IT hubs to provide technology services for Asia, Oceania, and Africa (AOA). This setup will design, implement, and maintain IT solutions and sharpen Nestlé's focus in the growing areas of digital, analytics and innovation to support changing customer, consumer and shopper focus.
When you join our IT team, you'll have the opportunity to collaborate across local and global Nestlé teams and external partners to deliver innovative technologies that create tangible business value and contribute proactively to our sustainability goals. Our diversity brings fresh and innovative thinking to how we approach new and existing challenges while embracing different cultures, genders, sexual orientation, abilities and flexible ways of working.
We are Nestlé, the largest food and beverage company. We are 308,000 employees strong driven by the purpose of enhancing the quality of life and contributing to a healthier future. Our values are rooted in respect: respect for ourselves, respect for others, respect for diversity and respect for our future. With more than CHF 91.4 billion sales in 2018, we have an expansive presence with 413 factories in more than 85 countries.
We believe our people are our most important asset, so we'll offer you a dynamic inclusive international working environment with many opportunities across different businesses, functions and geographies, working with diverse teams and cultures.www.nestle.com.
Job Title
Nestle India Careers: Big Data Science Jobs 2023
Description
· Have advanced MS Excel, SQL, R, Python (or similar) experience
Estimated salary
Per hour –
Work Location
Postal code :
Bangalore
Employment Type
FULL TIME
Nestle India Careers
Nestlé enjoys a reputation as the world's largest food and beverage company driven by our purpose – enhancing the quality of life of everyone, today and for generations to come. At Nestlé, we constantly explore and push the boundaries of what is possible with foods, beverages, and nutritional health solutions to enhance quality of life and contribute to a healthier future to better support individuals, families, communities and the planet. We have more than 2000 brands ranging from global icons to local favourites and are present in 190 countries worldwide.
What will make you successful in Nestle India Careers
· Be educated to MSc level (or equivalent) in Math, Statistics, Physics, Operations
Research, Econometrics or Data Science.
· Have proven experience of handling large datasets and reporting automation.
· Be able to demonstrate an excellent understanding of marketing mix modelling and price & promotion analytics.
· Experience with dynamic linear models/state space models is of particular interest.
· Have the ability to network and influence at senior levels both internally and
externally.
· Be able to interpret data and explain business performance in an easy to understand
way that tells a story to key stakeholders.
· Have proven experience of working in a matrix environment; achieving results
through effective influencing and collaboration.
· Have advanced MS Excel, SQL, R, Python (or similar) experience
As part of this role you will need to: Nestle India Careers
· Share your experience & knowledge and build Nestlé's internal modelling capability
· Partner with stakeholders to build and deliver a portfolio of advanced analytics
initiatives
· Work closely with to identify and answer business problems/questions using
appropriate modeling techniques on available data 
· Evangelize and provide advisory services around data science capabilities and
knowledge within Nestlé
· Work with large, complex data sets and solve non-standard problems
You are an expert in applying advanced analytics to solve marketing and sales business problems. You are equally comfortable applying your knowledge to optimize marketing spend or working with sales to optimize trade spend.
You are hands-on in your ability to build models, but you are also comfortable coaching less experienced team members in how to solve problems, or managing agencies to deliver where needed.
You know that having a great model isn't enough, you love to derive the "so what" from your models and tell compelling stories which inspire action and drive growth.
A day in the life of…
You'll be responsible for using advanced analytics to provide robust measurements of marketing & trade investment across different business models, product categories and
varied geographies.
You will work closely with your stakeholders to provide guidance on how best to optimize and allocate marketing & trade investments in order to support the delivery of our commercial strategy.
---
---
Welcome to GeeksGod Watch out for fake job offers asking for money. Legitimate jobs

never

charge fees. Trust your instincts and stay safe.
Apply Now: Click Here (Data Science Jobs 2023)