Last Updated on September 26, 2023 by GeeksGod
IBM Recruitment Drive
IBM Off Campus Drive 2023: In this role, you'll work in our IBM Client Innovation Center (CIC), where we deliver deep technical and industry expertise to a wide range of public and private sector clients around the world. These centers offer our clients locally based skills and technical expertise to drive innovation and adoption of new technology
As an Application Developer, you will lead IBM into the future by translating system requirements into the design and development of customized systems in an agile environment. The success of IBM is in your hands as you transform vital business needs into code and drive innovation. Your work will power IBM and its clients globally, collaborating and integrating code into enterprise systems. You will have access to the latest education, tools and technology, and a limitless career path with the world's technology leader. Come to IBM and make a global impact!
Your Role and Responsibilities for IBM Off Campus Drive 2023
Solution using multiple technologies to address functional needs, and convert design to functional and technical specifications.
Provides and/or oversees business application functional support services to meet customer performance, availability, service level agreements and customer satisfaction targets.
Ensures adherence to project management, software application development, testing, service management, change management, RCA and other relevant processes, standards, governance and controls
Plan and manage medium to large scale, complex, integrated application or platform projects to ensure effective and efficient execution in line with guardrails of scope, timeline, budget and quality. Help defining coding best practices within team.
Perform design reviews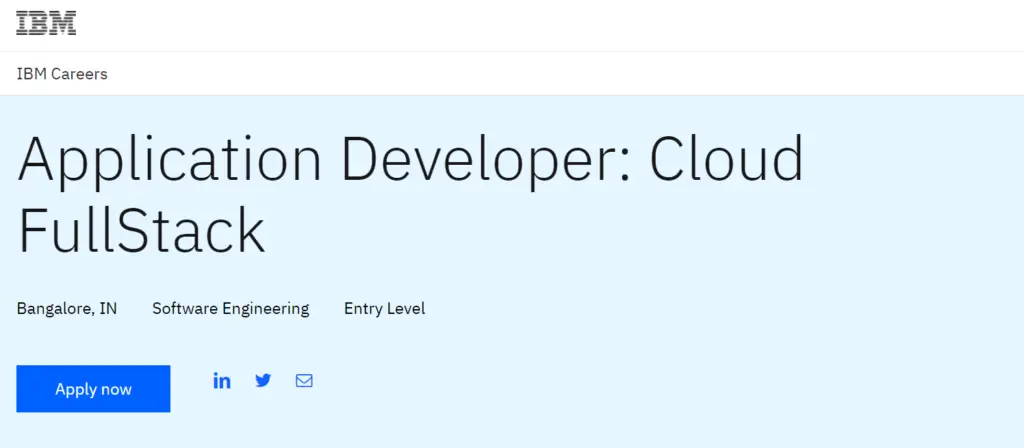 Job Title
IBM Off Campus Drive 2023: Cloud Jobs in Bangalore
Description
Eligibility criteria: Freshers (Entry level position)
Estimated salary
Per hour –
Work Location
Postal code :
Bangalore
Employment Type
FULL TIME
Required Technical and Professional Expertise: IBM Off Campus Drive 2023
Java 8 and above, Spring boot, REST API Design and development, Spring cloud, Spring Data/JPA/Hibernate, Database (SQL server/DB2), Docker, Container orchestration (Open Shift / Kubernetes), Messaging (Rabbit MQ / Kafka knowledge), CI/CD (Azure DevOps / Drone.io) & Monitoring & Alerting (AppDynamics / Prometheus)
Preferred Technical and Professional Expertise
Want to know what it's like to be an IBMer: IBM Off Campus Drive 2023
IBM Consulting is IBM's consulting and global professional services business, with market leading capabilities in business and technology transformation. With deep expertise in many industries, we offer strategy, experience, technology, and operations services to many of the most innovative and valuable companies in the world. Our people are focused on accelerating our clients' businesses through the power of collaboration. We believe in the power of technology responsibly used to help people, partners and the planet.
---
---
Welcome to GeeksGod Watch out for fake job offers asking for money. Legitimate jobs

never

charge fees. Trust your instincts and stay safe.
---
Apply Now: Click Here (IBM Off Campus Drive 2023)
---
---
Follow us on LinkedIn (122,000+ Follower) : Join Now
Important
All Company names, logos, and brands are the Intellectual Property of their respective owners. All company, product, and service names used in this website are for identification purposes only.
We are not associated with any company/agency/agent whose jobs posted on geeksgod.com, We are just an information provider for job openings. Read our Disclaimer Policy and Term of Service for more information