Last Updated on September 8, 2023 by GeeksGod
Adobe Internship drive 2023
Kickstart your career once again with Adobe SheSparks. SheSparks is India's flagship Women Returnee Programme, which aims to create a gateway for women to Change the world through digital experiences is what Adobe's all about.
We give everyone—from emerging artists to global brands—everything they need to design and deliver exceptional digital experiences! We're passionate about empowering people to create beautiful and powerful images, videos, and apps, and transform how companies interact with customers across every screen. 
We're on a mission to hire the very best and are committed to creating exceptional employee experiences where everyone is respected and has access to equal opportunity. We realize that new ideas can come from everywhere in the organization, and we know the next big idea could be yours!
Experience as a project manager, including delivering enterprise-scale web applications or analytics implementations
Experience in client facing project management
Strong verbal, presentation and written communication skills.
Excellent problem-solving skills, with a demonstrated ability to identify issues, solve them quickly and well, and know when to rely on internal resources to assist.
Strong conflict resolution and negotiation skills.
Professional demeanor, ability to interact with and lead diverse teams throughout Adobe, and communicating with client managers, directors, and VPs including CMOs and CXOs.
Superb organizational skills to be able to coordinate complicated projects.
Exceptional team building and team management skills, with proven experience managing virtual teams.
Prior experience with the launch and operation of a highly available, high traffic internet or mobile service.
Proven ability to understand the impact of technical changes, and to articulate high level technical solutions to address business problems.
Solid understanding of custom software development processes and engagement methodologies. Practical experience in managing agile development projects a plus.
Familiarity with the following languages and technologies: HTML, HTML5, XML, Java, WCM, Web analytics, content targeting
Solid understanding of and experience with one or more of the following: Web Content Management, Rich internet applications, Web & Social Analytics, online ad targeting and content personalization.
Ability to manage in an environment of ambiguity with diverse stakeholders.
Ability to build strong relationships and generate opportunities for repeat business.
One of the following certifications: Project Management Professional, Agile, Certified ScrumMaster, PRINCE2, or equivalent
Willingness to travel
GeeksGod is an educational platform aiming to provide technical as well as career growth assistance to students pursuing various STEM fields such as computer science, electronics engineering, etc. It achieves this by providing curated courses on a variety of topics and as well as information on upcoming off-campus hiring drives, available internships, and college projects at absolutely no cost. GeeksGod also acts as a blogging platform offering a wide range of genres to choose from which include, but are not limited to education, career counseling, tech reviews, and daily life hacks.
Job Title
Adobe SheSpark Internship 2023
Description
Women can apply
Estimated salary
Per hour –
Work Location
Postal code :
Bangalore
Employment Type
FULL TIME
About Adobe SheSpark Internship
Adobe Inc. is an American multinational computer software company. Incorporated in Delaware and headquartered in San Jose, California, it has historically specialized in software for the creation and publication of a wide range of content, including graphics, photography, illustration, animation, multimedia/video, motion pictures and print.
---
---
Welcome to GeeksGod Watch out for fake job offers asking for money. Legitimate jobs

never

charge fees. Trust your instincts and stay safe.
---
---
Getting back to work after a long career break can seem tough. Kickstart your career once again with Adobe SheSparks.

SheSparks is India's flagship Women Returnee Programme, which aims to create a gateway for women to re-enter the workforce through a 6-month internship. Bring your talents to Adobe and help create the future of digital experiences.
Interested? Click here to learn more:
Apply Now: Click Here (Adobe SheSpark Internship 2023)
---
---
---
---
---
Follow us on LinkedIn (122,000+ Follower) : Join Now
Important
All Company names, logos, and brands are the Intellectual Property of their respective owners. All company, product, and service names used in this website are for identification purposes only.
We are not associated with any company/agency/agent whose jobs posted on geeksgod.com, We are just an information provider for job openings. Read our Disclaimer Policy and Term of Service for more information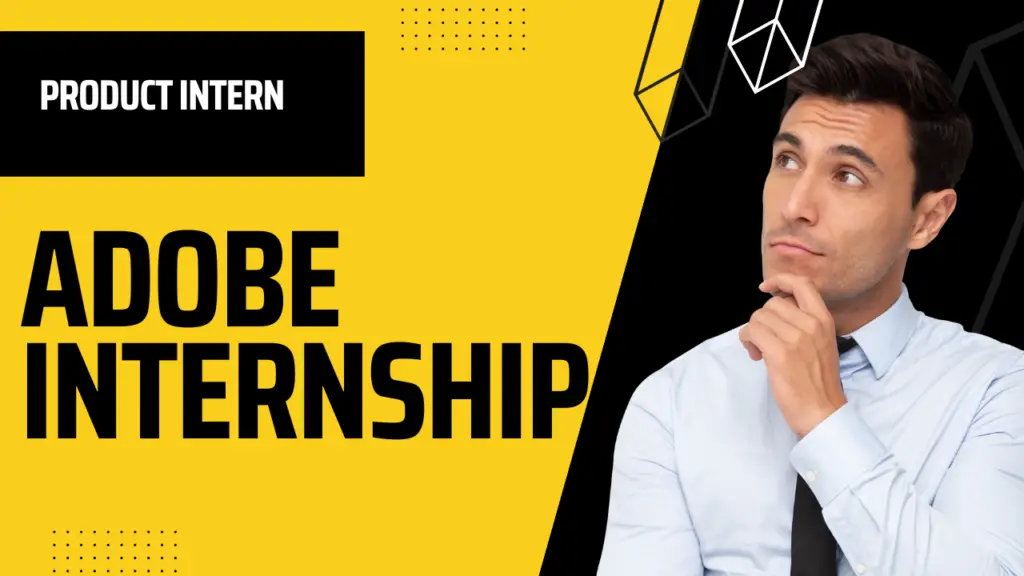 How to crack HR Interview?
HR interviews are tricky, they try to check your attitude and psychology. This includes communication skills, the ability to handle pressure, the ability to think, and personality. These are the following questions that can help you in order to crack your placement interviews.
Tell me about yourself.
What your hobbies?
Why do you want to join us?
Who is the founder of our company?
Where is our headquarter?
Will you be able to reallocate?
Would you be able to work during night shifts for our international clients?
Will you be able to work under pressure?
What is your strength? (example: work under pressure, agility, etc.)
Which is your preferred location and why?
Do you have any questions? (tip: If they asked you this question, then you can ask them the following questions)

Does your company conducts hackathons for their employees (Since I am good at management, coding. Try to impress them)
If I get selected for this role, is there any way to move upward in the hierarchy?
Be polite all the time.

Once, you are done with your interview, say thanks and then move confidently and close the cabin door without any noise.
| | |
| --- | --- |
| Join Telegram Group [90,000 + Members ] | Click Here |
| Join WhatsApp Group [Off campus drives] | Click Here |
| Join WhatsApp Group [Internship drives] | Click Here |
| Join For Amazon and Flipkart DEALS & OFFERS | Click Here |
Last 24 Hours to Register –
Job Placement Preparation Crash Course – Complete Job Preparation Course – Crack Product Based Companies in 15 Days
---
---