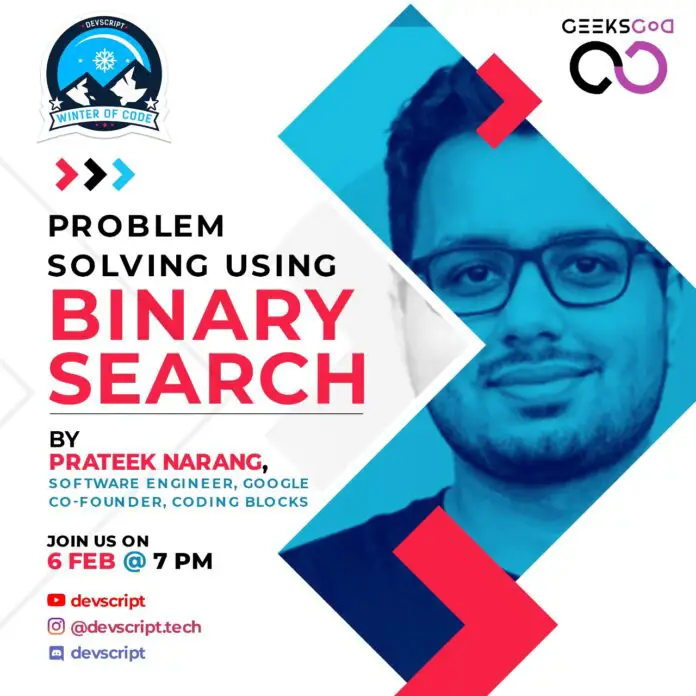 Workshop with Certification
DevScript in association with GeeksGod & Microsoft Learn Student Ambassadors is organizing binary search workshop. For more such off campus drives, internships and free courses with certifications be updated on our website.
If you're interested in programming, you may well have seen this quote before: "Everyone in this country should learn to program a computer because it teaches you to think." At some point, you may have wondered what does it mean, exactly, to think like a programmer?
Essentially, it's all about a more effective way of problem-solving.
We know that you're an avid learner and would never miss an opportunity to learn. Therefore, we invite you to join us for a YouTube LIVE session this Saturday, where our expert, Prateek Narang will give you a glimpse of how to approach a problem.
About
Topic: Problem Solving using Binary Search
Certificate By: Microsoft Learn Student Ambassadors
Date: 6th February 2021 (today)
Time: 7:00 PM IST
Speaker: Prateek Narang – Software Engineer III at Google | Co-founder Coding Blocks
Description
This session will be about problems for Binary search to buckle up your programming skills. The analysis of Binary search algorithm- divide and conquer method, analysis of binary search algorithm, iterative method and time complexity of binary search are the main topics which will be covered in the session. Some examples on Binary search in array will also be covered to give a perfect understanding of Binary search. This session will help you in cracking FAANG companies.
Benefits
E-Certificates
Free event
Learn From Experienced Speakers
Amazon & Flipkart exciting Deals and Offers Click Here
Join Our Groups For Latest Updates
| | |
| --- | --- |
| Join Telegram Group [70,000 + Members ] | Click Here |
| Join WhatsApp Group [Off campus drives] | Click Here |
| Join WhatsApp Group [Internship drives] | Click Here |
| Join For Amazon and Flipkart DEALS & OFFERS | Click Here |
---
For Government Jobs & Preparation Material : Click Here

(Mandatory to join)
Register Now: Click Here (Workshop)