CODE & BUILD WEB DEVELOPMENT WEEK
This winter, Progate is here with CODE & BUILD WEB DEVELOPMENT WEEK on 5-11 February 2021 
It is SEVEN DAYS of commitment to learning to code, publish a webpage, building your own project, and earning a badge.
DESIGNED FOR ABSOLUTE BEGINNERS
Progate from Japan has launched a virtual week-long event to help you not just learn and code but also build a project to earn an exclusive NINJA badge.
What does it take from your side?
A commitment of 7 days.
Interest in Web Development.
Curiosity towards project making competition.
Need to be an active learner, sharing experiences on LinkedIn.
Willingness to take up a challenge and earn a BADGE.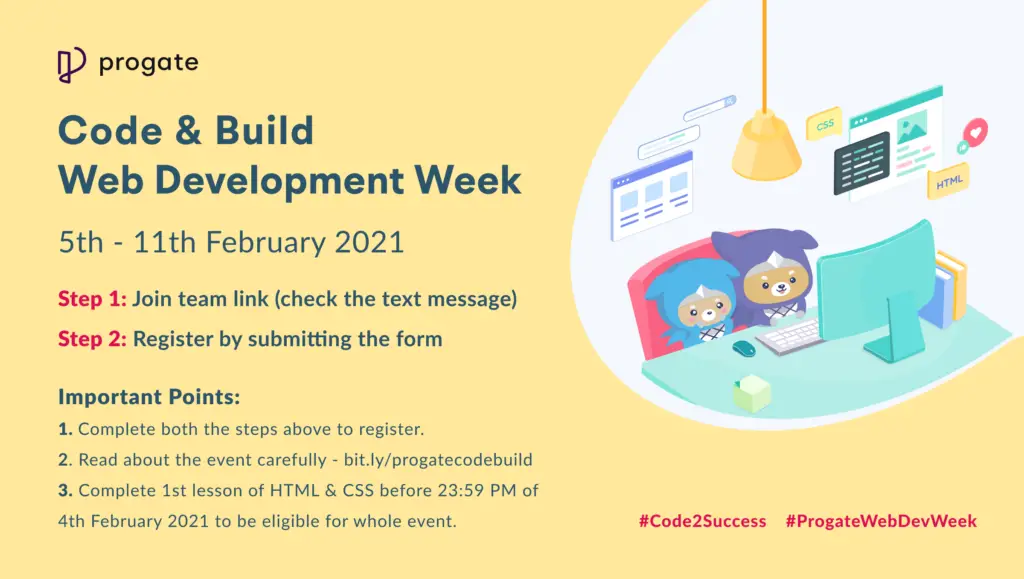 Benefits:
Earn a Badge
A commitment of 7 days.
Free access
About Progate
Progate is the largest online learning service for programming in Japan and has over 450,000 individual users worldwide. Progate is being used for self-study, classroom teaching as well in-house corporate trainings.
Masa Kato, CEO of Progate comments that "Among all of the platforms for learning to code, we are confident that our platform is the best for beginners to learn how to code in a fun and interesting way.  Progate is the one that meets with increasing demand of programming education. We are very excited to finally have a local subsidiary in India so that more and more students and adults alike can use our platform to start learning to code."
Currently, Progate has been introduced in high schools, universities and developer communities in India and the company will further strengthen its sales activities.  With India being on the forefront of Science and Technology, Progate will respond to the increasing needs of programming education by establishing a subsidiary in India where STEM education can be inculcated from primary school.
Amazon & Flipkart exciting Deals and Offers Click Here
Join Our Groups For Latest Updates
| | |
| --- | --- |
| Join Telegram Group [70,000 + Members ] | Click Here |
| Join WhatsApp Group [Off campus drives] | Click Here |
| Join WhatsApp Group [Internship drives] | Click Here |
| Join For Amazon and Flipkart DEALS & OFFERS | Click Here |
---
For Government Jobs & Preparation Material : Click Here

(Mandatory to join)
Here are the steps to register:
Join the team – https://bit.ly/3cquV5C (important step to activate your access)
Read about the event and register here – http://bit.ly/progatecodebuildregister
---
So, what are you waiting for? Take up this CHALLENGE during 5-11 February 2021 and start your web development journey!